Warning
: end() has been disabled for security reasons in
/home/sdyftyfb/topbingowebsites.co.uk/wp-includes/plugin.php
on line
346
Warning
: end() has been disabled for security reasons in
/home/sdyftyfb/topbingowebsites.co.uk/wp-includes/plugin.php
on line
346
Warning
: end() has been disabled for security reasons in
/home/sdyftyfb/topbingowebsites.co.uk/wp-includes/plugin.php
on line
346
75 Ball Bingo is among the most dynamic, entertaining and famous bingo games. It is played all around the world. Its popularity is increasing rapidly, so you will find new versions appearing quite often. Most of them are design to make the amazing experience, truly unforgettable. A favourite version of the 75 ball game in the US is the dynamic 75 ball variation of the traditional 90 ball bingo.
In Europe, the 75 balls bingo has a lot of fans too, and many more players would like to try it out. What is 75 ball bingo? Well, how about saying it is as fun as the 90 ball version, but with more chances of winning, no wonder it is becoming so popular.
The 75 ball bingo is also often referred as the American bingo. There are sites and players who claim that the UK bingo variation (90-ball bingo) is better than the American. Why? Because there are more chances of winning 3 compared to 1 in the 75 ball bingo. But this is not a principle an objective site would want to build on, and you should look for a more trustworthy opinion elsewhere.
At 75 ball variation, you have 1 chance of winning, only if you play for a pattern and nothing else. But nowadays there are prizes for a pattern but also for a full house.
On this page, we will tell you more about this exciting game, how to play it and which sites to choose for playing. We will share with you, which are the trusted operators and the new sites you can visit and enjoy the game.
Rules and Tickets for 75 Ball Bingo
In the 75 ball game, each ticket has 5 columns and 5 rows. The number of boxes is 24 and the middle boxes are free. The letters BINGO are located above the first line. Each number, which is called out has a letter with it so that players can find it quickly. The numbers from 1 to 75 are chosen and distributed randomly. A strip usually has 3 cards, but you will not find them at all operators. Sometimes you just need to pick each card or buy in bulks.
The winning combinations can practically be endless because you can either play for a certain pattern, or you need to cover 1 to 5 horizontal, vertical or diagonal lines. The patterns are so many that will be impossible to list all of them. Do not worry if you do not know the rules of the game or how to play it; there is a pattern you will always be able to see because it will be shown on your ticket.
If you are aiming at covering lines, they will be highlighted on the ticket, and there will be 5 of them. To walk away with the jackpot, you will need to cover 1,34,21,18,16 and 42 with the sample card.
How to Play?
As we already mentioned this dynamic and fun game is played on a card with a 5×5 grid, and with the letters BINGO written in the top five vertical columns. The middle squares are empty, and the numbers from 1-75 are located in the rest 24 squares. The ones below the letter B contain the numbers between 1 and 15, below I are the numbers 16-30 and so on. A range of 15 numbers is being represented in each following column.
What makes the game much more diversified and exciting are the various patterns you can play with. They are hundreds, combinations of numbers, letters, special shapes, funny symbols and much more. As in traditional 90 ball bingo, the aim of the game is to mark off the numbers in a pattern when called out.
If you like playing online, you can enjoy some special features like the Autodaub option, which marks off automatically the marked off numbers, or the 3TG option, where tickets which need 1,2 or 3 numbers to be matched, are being displayed.
To bring you even closer to this great game below we have picked some popular and well-established sites where you can try this bingo out.
At Foxy you will find a huge variety of patterns and many rooms with great offers. For those of you who do not want to wager much, 5 Times a Lady offers a ticket for less than 5p, which is a very good choice. You will not be left waiting because a new game starts every couple of minutes. It is a 5 line game with a progressive jackpot, so you have 5 chances to win.
Another great choice is the site Costa, which features a cheerful and sunny Caribbean team. The rooms remind us of an exotic summer holiday; they are Costa Cocktails and Costa Paradise. If you want to give this game a try before making a deposit, go to the Freezy Peasy room.
For all the ladies who like 75 ball bingo, we recommend the 888ladies, where you will find all things girlie and cute. Right at the lobby, you enter a wardrobe with a beauty cabinet to die for. In the drawers, you will find all the categories, and 75 ball bingo is present in all. For all newcomers, you will probably enjoy the Ladies First room with tickets costing only 5p.
Where to Play?
We have already mentioned some great networks with options to enjoy a bingo game with 75 balls, but here are some more. Wink has many rooms, and they have quite a generous welcome offer. That is why we will present you their rooms first, in the next short description. You can play 24/7 in 3 of the rooms – Fab5, Tutti Fruitie, and The Hangout. The tickets for the last one are between 5p and 1 pound, and you can get 1-48 cards for each game.
The tickets for the Tutti Fruitie and Fab 5 cost 5p. You will need 36 for the first room and 48 tickets for the second. Another option is the Gimme 5, which is open daily during certain periods of time, the tickets for these cost 25p and you can get maximum 96 of them per game. For bigger prizes, you can check the Bingo Babes room, where the ticket prices are also higher. They are between 50p and 2 pounds, and you can get up to 48 per game, the room is open during the evening hours.
Another room you can enjoy in the evening is the Huni Pot, where you will need to pay 10p for tickets and the maximum is 36. Last but not least the Catch'em Up room, where you can buy up to 60 tickets at prices from 5p to 25p.
At Wink, you will also find a no-deposit welcome offer of 10 pounds or 50 free tickets in the You're In 75-ball room. You can play in this room between 6 pm and 10 pm daily and you can use your free tickets for the first two 100 pound Jackpot games after claiming the no-deposit bonus or you will lose them. The price of each ticket after that is 20p.
You can find fun 75 ball bingo games at other sites like William Hill, Gala, and 888 Ladies, but the rooms are not as many. This can also mean that these rooms will be busier and the jackpots will be bigger. On the other hand winning in a crowded room is more difficult.
Knowing these two things, you can choose the price tickets that suit your budget and also the hours you can play and try a few games.
At William Hill and Gala, there are mixed rooms, which are so much fun because you do not need to change rooms in order to switch the variations you are playing. You can enjoy an 80/90 or 75 ball bingo games all in the same room. At 888 Ladies you will find a 4-figure Progressive Jackpot offer, which can be won will less than 35 balls of if you daub then 12 boxes in the champagne glass pattern.
Where Does 75-Ball Bingo Come From?
We already mentioned in the introduction of this page that 75-ball bingo is often referred as the American bingo. This is because it is the American variation of the 90-ball games. Initially imported from the UK, the game has transformed to fit the American players. The ticket has changed, and instead of 90 balls, there were 75.
This game was popular and played at fairs and carnivals with beans; that is why it was often called the Beano. The beans were used to daub the numbers. One day at the fair in Atlanta, Georgia, a salesman from New York decided he can market the game under the name Bingo. He was watching the games at the fair when this idea came to him.
However, he decided that the name Bingo will be available for other people too and they could sell cards. This is probably why the game became so popular. Later on, Edwin Lowe hired a mathematician to create different combinations of numbers for the 5 x 5 grid card. Machines and automation transformed the game and made it possible to create different patterns. This made the game even more entertaining and exciting to play.
A curious fact is that the church also used Bingo to raise funds for social causes and it was a preferred, cheap entertainment during the Great Depression.
Lucky Winners
In this section of we will tell you a little bit about a lucky winner who changed her life playing this game. The first one is a lady, who won a huge jackpot in January 2015, playing Deal or No Deal 75 at Sky Bingo. Her name is Linda, and she won over 17 million pounds. She said she wants to do something wild with the money she won and make some of her dreams come true. Jackpots like this are truly life changing!
75 Ball Bingo Online
Bingo Zone launched in 1996 was the first online 75 ball bingo game, which was free. It is now a Gamesville product. What you needed to do to play was to provide some data and watch ads.
The site still exists and it is still free, but the quality cannot be compared to the gambling sites we have already mentioned in our reviews. It is a basic way to play without impressive graphics, bonus rounds, a robot caller sound and games with only 3 cards.
75 Ball Bingo Variations
If we are comparing with 90 ball bingo, there a not many 75 ball bingo variations. This is the case because of a large number of winning patterns, so there is no need to change in order to make different sessions. However, there are 2 variations of the traditional game that we would like to recommend.
Swedish Bingo is the first one, and it is also known as 5-line bingo. The only difference between this game and the 75 ball bingo games is that there is no free space in the Swedish Bingo variations and the numbers are 25 in total. With this game, you have more chances to win compared to the traditional game. You will win if you cover 1 to 4 rows or the whole ticket. You can find this game at Wink, Foxy and 888Ladies, all of which run on Dragonfish software.
The second option is the Endemol branded game DOND 75. It can be played on most Virtue Fusion sites, and it is very similar to the previous variation we mentioned. This is because you are aiming for four lines rather than patterns. However, at DOND 75 there is a free space, and you can purchase strips of 3 tickets, there is also a bonus round with a popular question asked by the Banker.
Here is a bit more on how it works: you have 22 boxes with numbers, which also contain different prizes. They disappear when their number is called out together with the red or blue sum that corresponds to them. If you win a Full House, you also qualify for the bonus game, where you will get an offer from the Banker. The interesting part is that the other participants in the game will vote whether the winner should accept or decline this offer, but this just their opinion, so the decision is still made by the winner.
If you decline the offer, you get whatever is there in the box. One can also play for the Community Progressive Jackpot starting at 7,500 pounds which increase until somebody wins it. If you cover all the boxes on your card in 42 calls or less, you will get 50% of the jackpot. The rest will be split among all the players who bought in for the game.
Land Based Clubs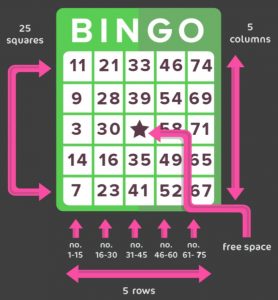 At land based casinos the rules to play 75 ball bingo are the same. You can either play for a pattern or lines. However, there are some differences which we will mention below.
At some clubs, you get a ticket with a pattern on it, but this is not valid for all clubs. At others, the policy states that no matter if you cover the pattern as it is shown or it is rotated, you still win.
Another option is to play until the pattern matches, but without using the free space. In this case, you will have to work around it. If you are aiming at Double Bingo, you will have to cover the row with the Free space and the I column.
If you choose the hard way, then you will need to cover the O column and the 4th row. This is a game with more than one winner and the easier the pattern, the more winners will have to share the prize.
Frequently Asked Questions
Can multiple players win the prize in the online rooms?

The answer is, Yes. This is typical for the Deal or No Deal Bingo game. The prize is usually split between all the players. The money is from the Players Box which has been chosen automatically at the beginning of the session and the Full house. This means that the feature game will not require you to decline or accept a deal.
Why the 75 ball bingo rooms where you can win daubing patterns are fewer?

In the 75 ball bingo rooms, you have more chances to win because of the covering lines. In traditional rooms, there is only 1 chance to win, while in the 75 ball bingo you have 5. Of course, the operators have found a way around that to attract more players. Each game has more than one pattern, and the prize is given if you cover them all.

This is the end of our 75 ball bingo review. We highly recommend this game, and we are convinced it is one of the most interesting and exciting options out there. Enjoy the game and good luck!
Other Types
A hardcore bingo fan has to know every type that exists in order to know which one will be the most lucrative. This is why we advise you to look into the pages below.